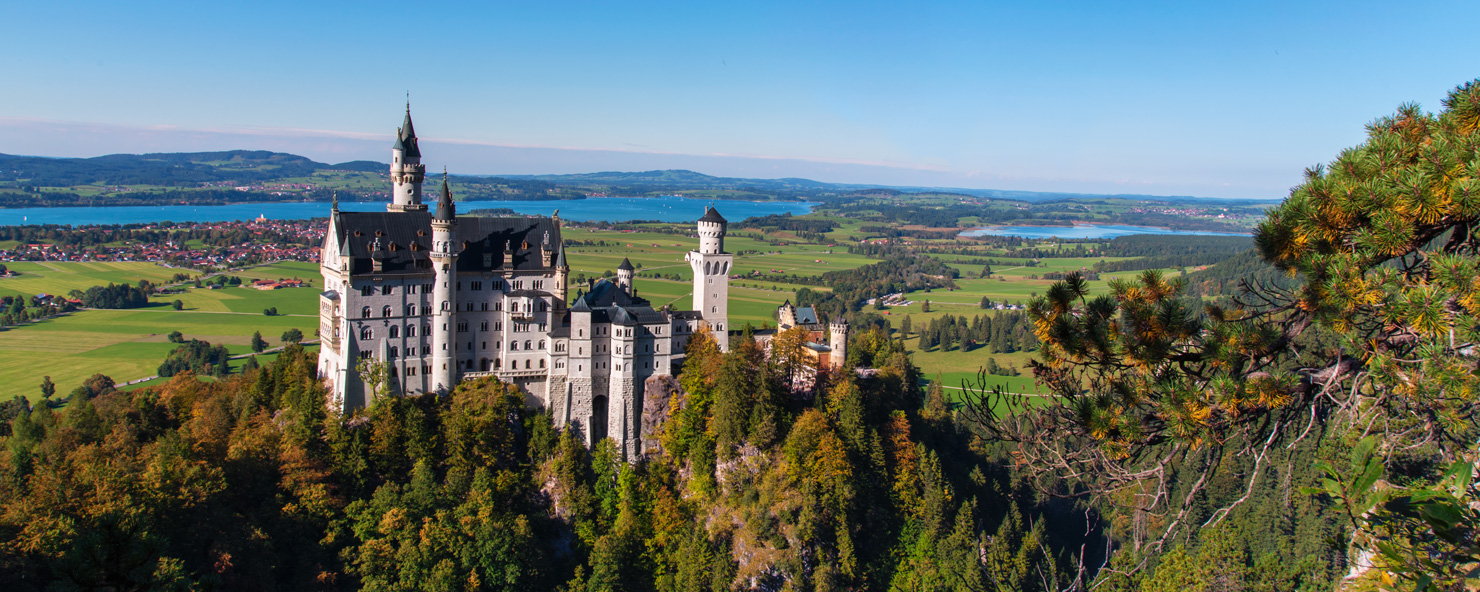 An Extraordinary  Excursion to the Magical Castle of King Ludwig II

Let us take you on a magical day to the Bavarian Alps and the most famous castle in the world, Neuschwanstein. Built by the tragic fairytale King Ludwig II of Bavaria, Neuschwanstein Castle has captured the hearts and minds of million of visitors over the years, including Walt Disney, who modeled his Cinderella castle after Ludwig's very original design. On the way to the castle we drive the pretty way through the beautiful Bavarian countryside and fill you in on the fascinating life story and mysterious death of this king.
After the castle visit and lunch there are several possibilities for the afternoon, including Linderhof Palace, Oberammergau, Hohenschwangau Castle, medieval castle ruins and more. We have special programs for children, also. Please see the Tour Options section below for details.
Hohenschwangau Castle was (re-)built by Ludwig's father and it is where young Ludwig spent his summers. Linderhof is a relatively small but very secluded palace, and King Ludwig spent most of his time here in the last decade before his untimely demise. The alpine setting and picturesque Baroque garden surrounding the palace make for a truly enchanting experience. Oberammergau is a picture-perfect Bavarian village, world-famous for wood carvings and the Passion Play, which is performed every 10 years (due to the pandemic the 2020 play was postponed to 2022).
For an adventurous afternoon, we can visit nearby medieval castle ruins with a beautiful view or a different castle ruin with a really long suspension bridge (see the Tour Options Gallery at the bottom of the page).
Tour Highlights
Private tour to Neuschwanstein Castle from Munich
Drive through the beautiful Bavarian countryside
Inside castle visit with English speaking local guide
Background information on King Ludwig, his times and his family
For options after the castle visit please see the Tour Options section below
Visits to the best photo spots for all attractions
Tour Details
Skip-the-Lines service, no waiting for tickets or tables
Door-to-door transportation from and to your hotel or designated place in Munich
Start time is usually 8:30 or 9 am and we arrive back in Munich around 6 or 6:30 pm
Experienced, knowledgeable and friendly driver/guide
Simple and transparent pricing with no hidden costs
Tour Options
Afternoon visits to Linderhof and Oberammergau (packed version)
Afternoon visits to the Wieskirche and Oberammergau (relaxed version)
Neuschwanstein Castle, Hohenschwangau Castle and Füssen
Immersive visit to nearby castle ruins (see photos below)
Special Kids & Castles afternoon activities available
Tour Pricing
The prices for our private tours are group prices, i.e. one price for the entire group.
Our listed prices are for up to 6 travelers. We are able to accommodate a 7th person for a small extra fee.
Please contact us for a price for 8 or more travelers.
Entrance fees are extra (listed below)
Single traveler discounts available
Tour Price: EUR 890,-

Additional charge for 7th person: EUR 60,-
Entrance fees (incl. Service Fee)

Neuschwanstein: EUR 25,-
(Option) Hohenschwangau: EUR 28,00
(Option) Linderhof: EUR 10,-
(Option) Neuschwanstein + Hohenschwangau Combi-Ticket: EUR 45,-
Children under 18, Neuschwanstein & Linderhof: FREE
Children 7-17, Hohenschwangau: EUR 13,50
Highline 179 and Elevator to the Ehrenberg Castle Ruin: EUR 15,-
Highline 179 and Elevator, ages 4-14: EUR 10,-
All our tours can be customized to suit your needs and interests. Use the button below to get more information.
Neuschwanstein Castle Gallery