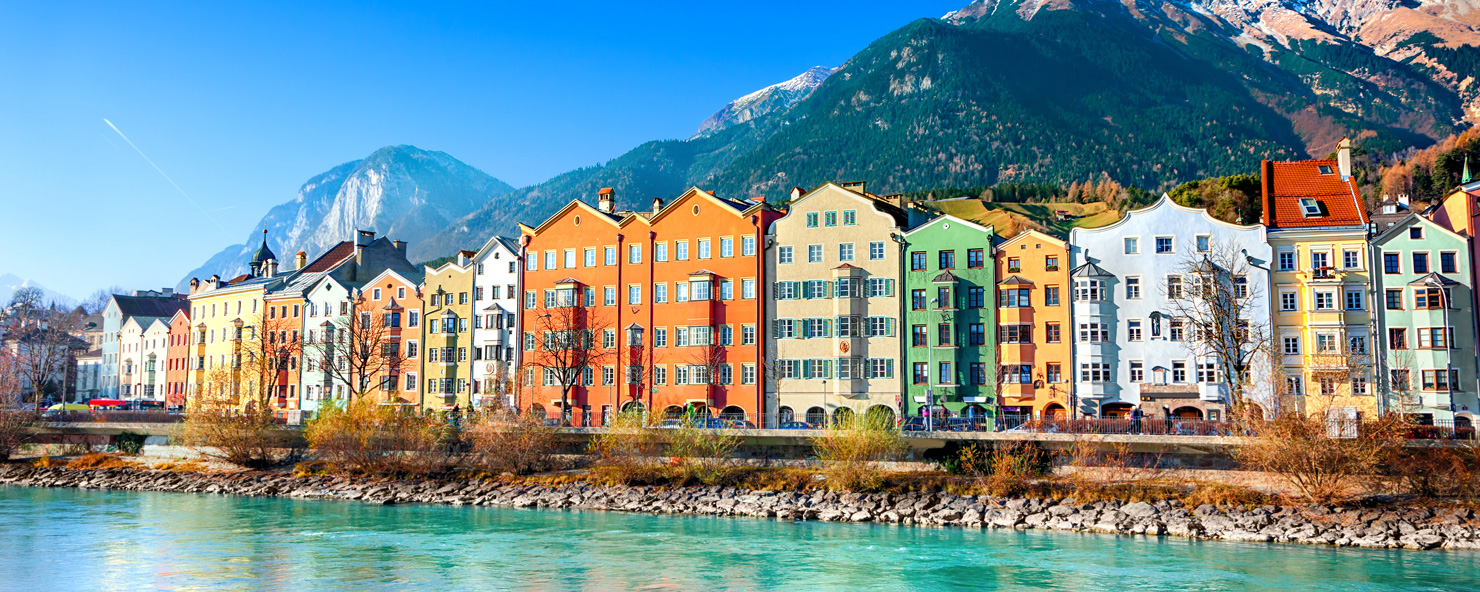 The Charming Old Town and Mountains Everywhere

Innsbruck, the bustling capital of the Austrian state of Tyrol, can trace its roots back to Roman times. Situated perfectly in the magnificent Inn River valley at the head of the long trade road over the Italian Alps, Innsbruck became rich and famous in the Middle Ages. This medieval old town is the highlight of our tour today. On the walking tour you will see buildings from the 1400s and 1500s – and mountains in any direction you look. The Golden Roof is the symbol of the city, and the Imperial Palace was used as a summer residence by the Habsburgs, the ruling dynasty of Austria. Their two famous empresses, Maria Theresia (Holy Roman Empire, 18th century) and later Elizabeth (better known as Sisi, Austria-Hungary Empire, 19th century) were particularly fond of Innsbruck.
We normally drive to & from Innsbruck via two different mountain passes and enchanting alpine lakes, so there is a great deal of alpine immersion on this trip. We have several engaging options for the remainder of the tour.
The most extraordinary option for the Innsbruck tour is the amazing World of Crystal at the Swarovski headquarters. This dreamlike exhibition showcases the company's history and vision for the future, and is justly called the 'Chambers of Wonder'. It is part museum and part art exhibit, with the largest Swarovski shop ever.
If crystal is not your thing, there are plenty of other options. These include a riveting folklore mueum, the (hilly) gardens of the tranquil Ambras Palace, home to albino peacocks and black swans, Hall in Tirol, an off- the-beaten-path charming town which lays claim to be home of the dollar, the artsy village of Rattenberg, or wonderful Austrian alpine villages.
Tour Highlights
Fantastic drives over the Alps past beautiful mountain lakes
Walking tour of the Innsbruck old town
The Golden Roof and ornate 15th and 16th century buildings
Plenty of free time to explore on your own or for shopping
(Optional) Inside visit to the Imperial Palace or Folklore Museum
(Optional) Swarovski World of Crystal (Wonder Chambers)
Tour Details
Door-to-door transportation to and from your hotel or designated place
Start time is usually 8:30 or 9:00 and we arrive back in Munich around 6 or 6:30 pm
Experienced, knowledgeable and friendly driver/guide
Simple and transparent pricing with no hidden costs
Tour Options
Swarovski World of Crystal and the Chamber of Wonders
Ambras Castle with its beautiful wooded garden trails
The Bergisel area with ski jump and history museums
Quaint medieval old town of Hall in Tirol
Tour of the postcard villages of the Inn Valley
Can be combined with a visit to the Zugspitze (for those in a hurry)
Innsbruck can be part of a multi-day tour, for example:

King Ludwig Special: a three-day trip Neuschwanstein, Hohenschwangau, Linderhof and Chiemsee including Innsbruck
Two-day Neuschwanstein + Innsbruck tour
Two-day Garmisch, Zugspitze and Innsbruck tour
Tour Pricing
The prices for our private tours are group prices, i.e. one price for the entire group.
Our listed prices are for up to 6 travelers. We are able to accomodate a 7th person for an extra fee.
Please contact us for a price for 8 or more travelers.
Entrance fees are extra (listed below)
Single traveler discounts available
Tour Price: EUR 890,-

Additional charge for 7th person: EUR 60,-
All entrance fees and fares are optional:

(Option) Swarovski World of Crystal: EUR 19,- / 6,-
(Option) Hofburg Imperial Palace: EUR 9,50 (kids free)
(Option) Folklore Museum: EUR 12,- (kids free)
All our tours can be customized to suit your needs and interests. Use the button below to get more information.