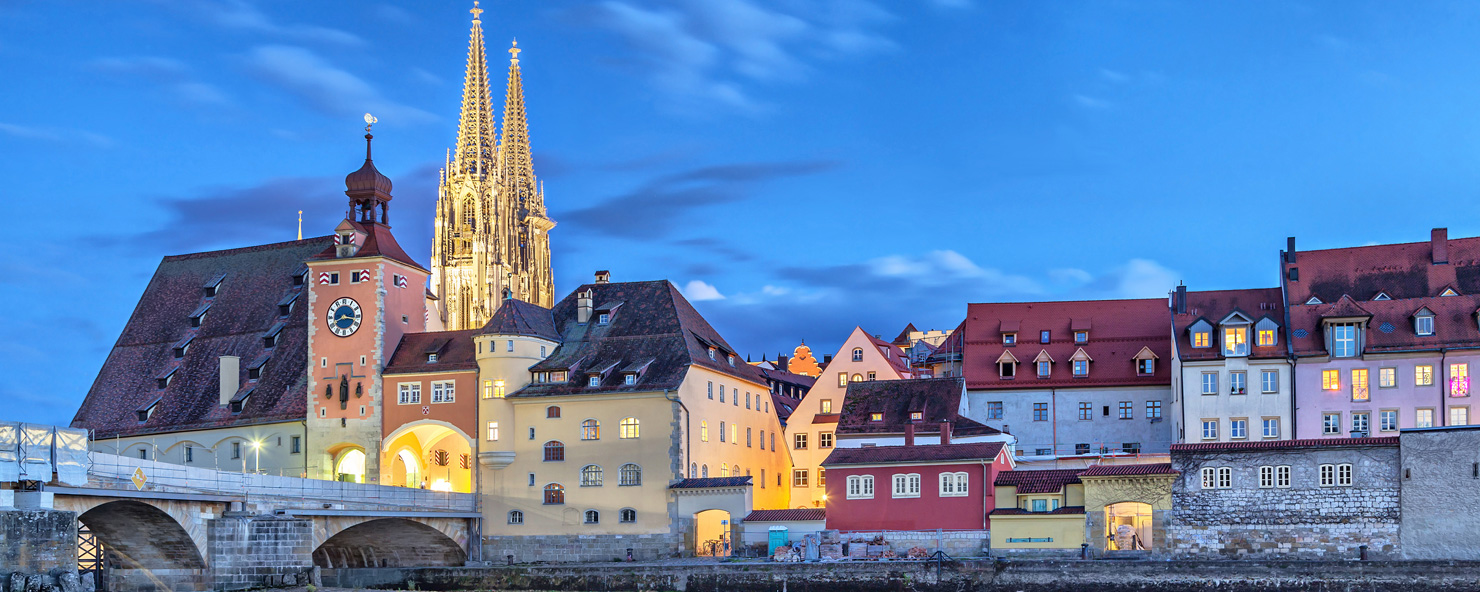 A World Heritage Day in a Well-Preserved Medieval Metropolis

Regensburg has a very long history of importance. The Romans built a major legion camp here; during the early Middle Ages the city was a major trading center, thanks to its convenient location and a stone bridge built in the 1100's; and Regensburg played a primary role in the latter stages of the Holy Roman Empire as host city of the Empire's only perpetual parliament. You will learn about this fascinating history on our tour. Regensburg is considered the best preserved medieval large city in Germany, as it was spared from the bombings during WWII. This gives Regensburg and its old town a unique charm and historic feeling.
On our tour we'll see some remnants of the Roman times as well as the medieval the Stone Bridge, built before the city of Munich was even founded. We also have an inside tour with a local guide of the old city hall and the perpetual assembly hall. We will also have a look inside St. Peter's Cathedral, one of the finest gothic chruches in all of Germany.
A university town, Regensburg is a cultually hip sort of town, which means lots of small shops and many options for lunch. Sometimes we just go to the most famous sausage house in the country; it is on the river next to the Stone Bridge. there is time in the afternoon for some strolling or shopping or perhaps a visit to the brand new House of Bavarian History.
On our tours we always try to show you as much of the scenery a possible. At the Walhalla, our last stop on this tour, there is a lovely view of the Danube and the surrounding countryside. Perched on a ridge above the river, the Walhalla looks like an ancient Greek temple, but was built in the 19th century by King Ludwig I as a pantheon to German heros.
Tour Highlights
Walking tour of the UNESCO old town with intact medieval architecture
Inside tour of the Imperial Diet and Old City Hall including torture chamber
See remains of the Roman border fortress Castra Regina
The Stone Bridge over the Danube
Inside visit to the massive gothic cathedral with impressive stained glass windows
The neoclassical Walhalla, high above the Danube, with wonderful views
Tour Details
Door-to-door transportation to and from your hotel or designated place
Start time is usually 8:30 or 9:00 and we arrive back in Munich around 6 or 6:30 pm
Experienced, knowledgeable and friendly driver/guide
Simple and transparent pricing with no hidden costs
Tour Options
Private tour of the Old City Hall and Imperial Diet
House of Bavarian History
Inside visit at the Walhalla Monument
Regensburg can be combined with parts of the Danube Narrows tour
Can be part of a River Cruise Transfer; indeed one cruise company uses Regensburg as its terminal
Tour Pricing
The prices for our private tours are group prices, i.e. one price for the entire group.
Our listed prices are for up to 6 travelers. We are able to accomodate a 7th person for an extra fee.
Please contact us for a price for 8 or more travelers.
Entrance fees are extra (listed below)
Single traveler discounts available
Tour Price: EUR 850,-

Additional charge for 7th person: EUR 60,-
All entrance fees and fares are optional:

Old City Hall and Imperial Diet: EUR 7,50 / 4,-
(Option) House of Bavarian History: EUR 5,- (< 18 free)
(Option) Inside visit to the Walhalla: EUR 4,50 (< 18 free)
All our tours can be customized to suit your needs and interests. Use the button below to get more information.