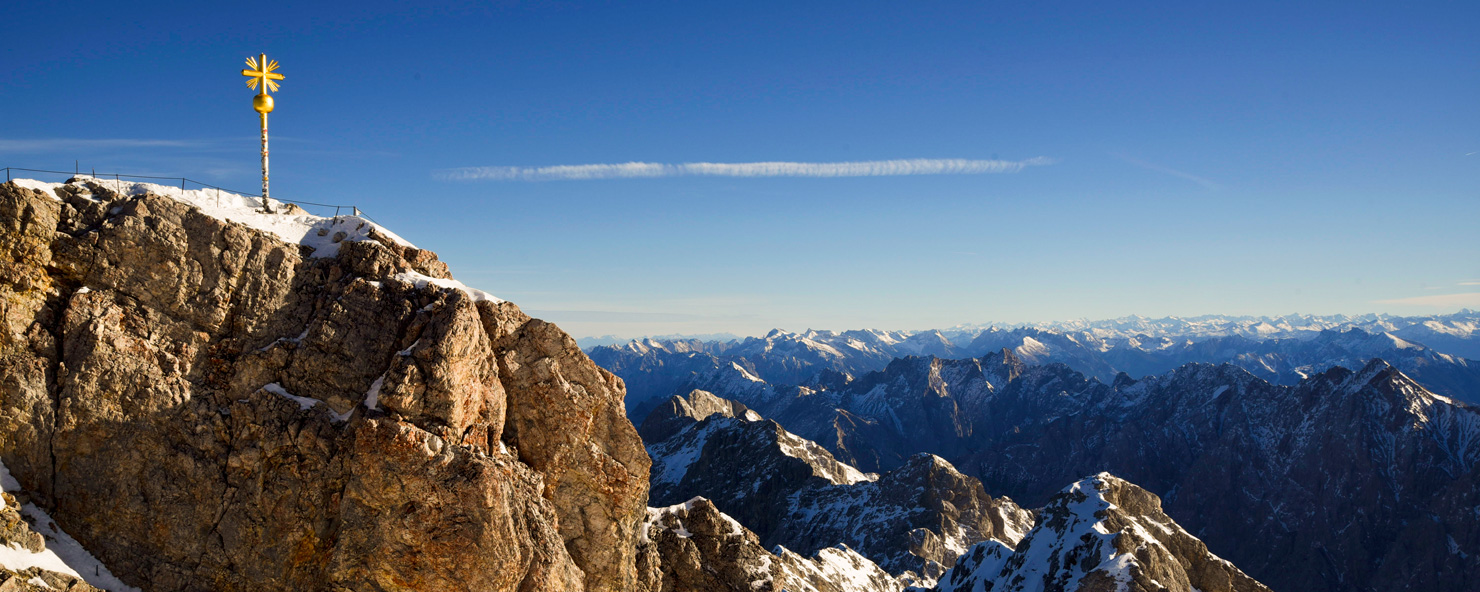 The Zugspitze and Upper Bavaria
An Uplifting Day on the Zugspitze and in the Bavarian Alps

We go to the Top of Germany on this tour via a modern cable car up to the top of the Zugspitze mountain. At just shy of 3,00o meters (9,700 ft), the views from the summit are spectacular – one can see all the way to Italy on a fine day. On the visitors platform there are lookout platforms facing every direction. Up top there are a few restaurants, including Germany's highest Biergarten, a museum, a weather station and you can even cross the border at the top, as part of the Zugspitze is in Austria. We can also visit the bowl, which is a ski area in winter. Although there are three ways to get up & down the mountain, we now almost exclusively use the record-setting new cable car from the Eibsee.
We have several nice options for the rest of the day, including spending time at the Eibsee (Lake Eib), visiting the resort town Garmisch-Partenkirchen, Linderhof Palace, Oberammergau, or even riding an alpine coaster or a short hike through a dramatic gorge.
Garmisch is a fantastic Pure Bavarian village and the host site of one of the four original alpine ski races. It is a lovely stroll down the main car-free street amongst the wonderfully painted buildings. Oberammergau is another lovely town known for the Passion Play and wood carvings. Linderhof Palace is extravagant and secluded, and a true highlight. It is where King Ludwig II spent most of his time. The enchanting gardens are a delight.
If you are nature lovers, we can spend some time at the Eibsee or walk the loggers' trail through the exciting Partnach Gorge. Another action activity is riding an alpine coaster, which is basically your own private sled on rails (or on a track). This is a great family activity. 
Tour Highlights
Trip up to the Zugspitze via modern cable car (the historic cog-wheeled train is a slower option)
Spectacular panoramic views over the top of the Alps.
"Cross the Border" between Germany and Austria on top of the mountain
Visit the bowl, get in the snow and maybe even sled a bit
Background information on the Alps and Bavaria
Plenty of time for lunch and some shopping
Tour Details
Door-to-door transportation to and from your hotel or designated place
Start time is usually 8:30 or 9:00 and we arrive back in Munich around 6 or 6:30 pm
Experienced, knowledgeable and friendly driver/guide
Simple and transparent pricing with no hidden costs
Tour Options
The fabulous Linderhof Castle, the home of King Ludwig II of Bavaria
A stop in the center of the resort town of Garmisch-Partenkirchen
A visit to Oberammergau, the Passion Play Village
Extended lovely alpine drive passing villages and mountain lakes
For families and active travelers:
Walk through the dramatic Partnach Gorge.
Ride an exciting alpine coaster – we have three options for this!
Open Air Farmhouse Museum in Glenleiten
The Zugspitze can be part of a multi-day tour, for example:
Two-day trip Neuschwanstein + The Zugspitze
Tour Pricing
The prices for our private tours are group prices, i.e. one price for the entire group.
Our listed prices are for up to 6 travelers. We are able to accomodate a 7th person for an extra fee.
Please contact us for a price for 8 or more travelers.
Entrance fees are extra (listed below)
Single traveler discounts available
Tour Price: EUR 850,-

Additional charge for 7th person: EUR 60,-
Entrance fees and fares:

Zugspitze Adults: EUR 63,- / 50,- / 32,-
(Option) Linderhof Palace EUR 10,00 (under 18 free)
(Option) Partnachklamm incl. cable car: EUR 11,- / 7,-
(Option) Alpine coaster: EUR 14,50 (long ride, adult), 11,- (6-15)
All our tours can be customized to suit your needs and interests. Use the button below to get more information.