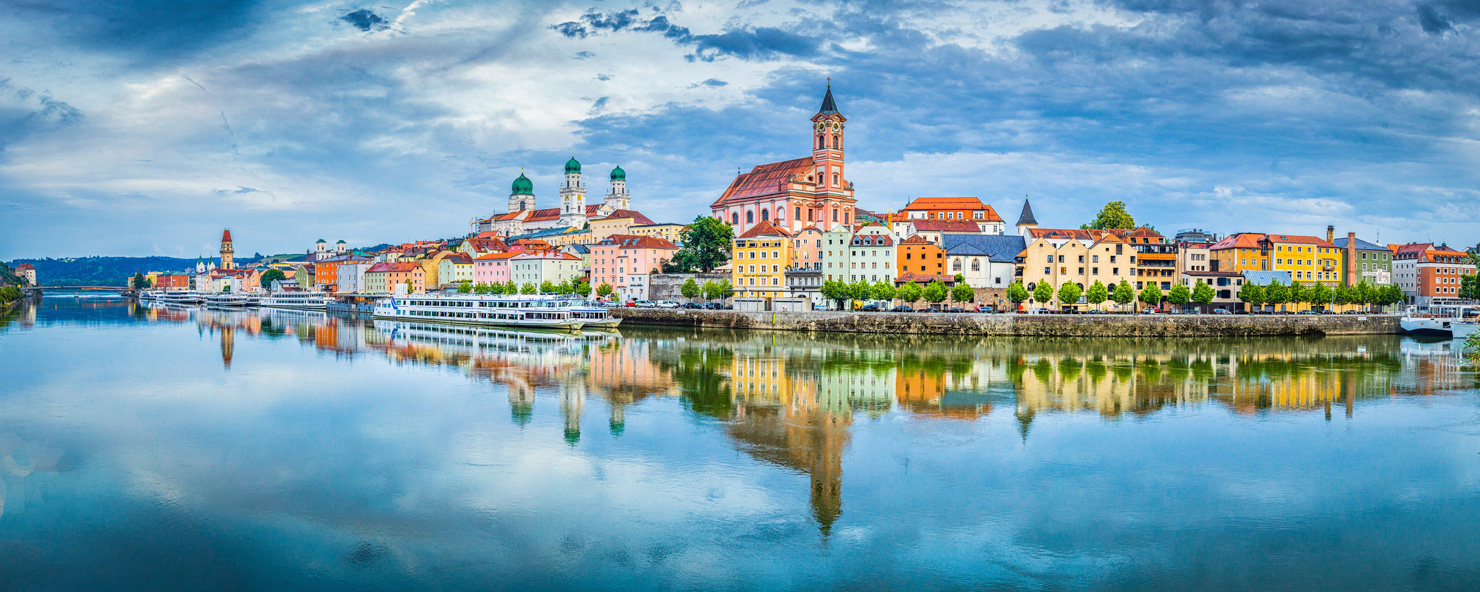 Sightseeing Transfers from Passau, Vilshofen, Regensburg and Nuremberg

If you are taking a river cruise, Bavarian Day Tours offers exclusive private sightseeing transfers to and from Munich. Whether you are flying into Munich and heading to your cruise or leaving the ship and are going to Munich, we can make sure that your transfer includes an enjoyable day of sightseeing. The main ports we service are Passau, Vilshofen, Regensburg, and Nuremberg, but we also can also pick you up or bring you to Basel, Switzerland for Rhein cruises. Also possible are day trips to Munich from the boat, especially doable from Regenburg or Kelheim.
We offer a "classic" route to and from each port, but as with all of our tours, these can be customized to fit your needs. City tours of Munich as part of the transfer are also popular. Please see below for details.
Passau – our classic transfer for cruise lines such as Viking, Uniworld and Emerald takes you to the impressive castle in Burghausen – the longest in Europe – and the peaceful town of Altötting, which is the most popular pilgrimage destination in Germany.
Regensburg – for Tauck passengers, the Danube Narrows and the pretty Altmuehl Valley are the main stops on our classic transfer to/from Regensburg. Extended city tours of Munich are also popular.
Vilshofen – for Ama Waterways passengers, we can offer a similar route as from Passau or from Regensburg. As with all transfers, we can also create a custom route for you.
Nuremberg – for passengers on Avalon and other boats that start or end in Nuremberg, the classic transfer is actually an extended city tour of either Nuremberg or Munich. The Danube Narrows and Altmuehl Valley are also easily possible.
Tour Highlights
Private transfer directly from the boat to your hotel, or visa-versa
Pace can be set to your needs
Each transfer is flexible to adapt to your interests
Plenty of room for luggage for up to six people
Tour Details
Door-to-door transportation to and from your hotel or designated place
Start time for dock pick ups depends upon boat scheduling; we arrive in Munich around 6 or 6:30 pm
Start time for drop offs is usually 8:30 or 9:00 and we arrive at the dock NLT 4:30 pm
Experienced, knowledgeable and friendly driver/guide
Simple and transparent pricing with no hidden costs
Tour Options
Day trips to Munich from Regensburg and Kelheim
Transfers between Munich and Basel
Transfers from the boat to other locations also possible
Please contact us for options for your particular transfer
Tour Pricing
The prices for our private tours are group prices, i.e. one price for the entire group.
Our listed prices are for up to 6 travelers.
Please contact us for a price for 7 or more travelers.
Entrance fees are extra; we will provide these to your for your particular transfer
Single traveler discounts available
All our tours can be customized to suit your needs and interests. Use the button below to get more information.