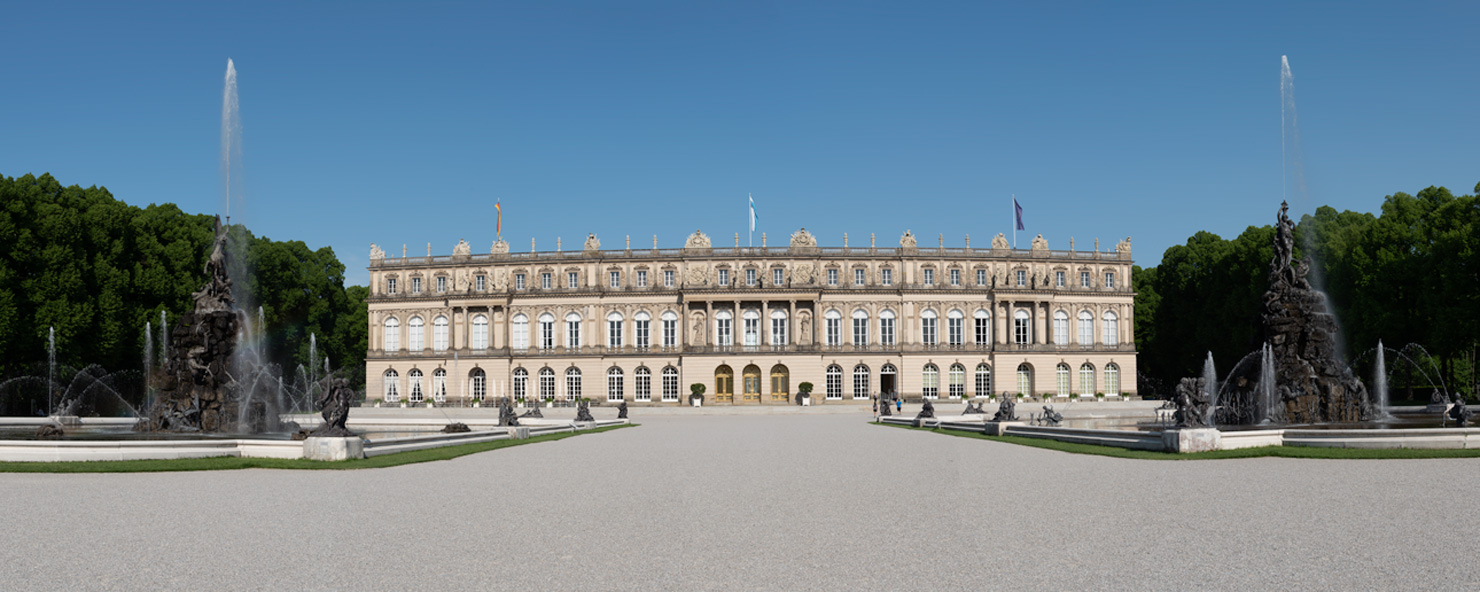 A Relaxing Day at the Island Palace on Bavaria's Largest Lake

This is perhaps our most relaxing day tour: a pleasant drive and boat ride to see a magnificent palace on an island in the middle of Chiemsee (Lake Chiem), which is the largest body of water in Bavaria. The Herrenchiemsee Palace is the third of King Ludwig II's famous buildings, and is basically his version of Versailles, which was built almost 200 years earlier by his idol Louis XIV of France. It is a sumptuous and lavish palace with beautiful gardens and fountains in the most unlikely of settings. The palace was never finished; Ludwig's complete failure to manage his finances led to construction being halted and greaty contributed to his removal from the throne. There is a real 'aha' moment at the end of the inside tour when you see where the money ran out – a completely bare brick room. An art gallery is now in other unfinished rooms.
The island was home to an erstwhile very important monastery that traces its roots to the year 630. It is now called the "Old Palace", because King Ludwig lived there while inspecting the construction progress. The restaurant there is one of our lunch options.
We normally have lunch, however, on the neighboring and much smaller island, the pretty Fraueninsel, which is a village with lovely flower gardens, artists' shops and a few restaurants. The 15. 5-hectare (38-acre) large Fraueninsel is car free and home to 300 permanent residents as well as an active Benedictine convent. Adhering to trradition, the nuns still make their own licqueurs. At the center of the island is an elm tree said to be a thousand years old.
Sometimes there is time enough to drive the pretty way back and stop for a coffee or tea in one of the quaint Bavarian villages along the way. We can even work in a visit to an open air farmhouse museum or one of the best independent automobile museums in Germany.
Tour Highlights
Peaceful boat rides with mountain backdrop on Chiemsee
Inside tour in English of the Herrenchiemsee Palace with a local guide
Photo stop at the ex monastery, founded in the 7th century
A visit to the artist community on the Fraueninsel, the island village
Background information on King Ludwig, his family and his times
Plenty of time for lunch and strolling
Tour Details
Door-to-door transportation to and from your hotel or designated place
Start time is usually 9:00 and we arrive back in Munich around 6 pm
Experienced, knowledgeable and friendly driver/guide
Simple and transparent pricing with no hidden costs
Tour Options
The following options may require limiting or omitting the stop at the Fraueninsel:
Extended boat ride to see the entire lake
Cable car ride to the top of the nearby Kampenwand mountain for panoramic view over Chiemsee
Chiemsee can be part of a multi-day tour, for example:
King Ludwig Special: a three-day trip Neuschwanstein, Hohenschwangau, Linderhof and Chiemsee
As part of any two- or three-day trip to Salzburg and Berchtesgaden
Tour Pricing
The prices for our private tours are group prices, i.e. one price for the entire group.
Our listed prices are for up to 6 travelers. We are able to accomodate a 7th person for an extra fee.
Please contact us for a price for 8 or more travelers.
Entrance fees are extra (listed below)
Single traveler discounts available
Tour Price: EUR 850,-

Additional charge for 7th person: EUR 60,-
Entrance fees and fares:

Chiemsee boat fare: EUR 10,- / 5,- (ages 6-15)
Herrenchiemsee Palace: EUR 9,- (under 18 free)
(Option) Full lake round trip boat fare: EUR 14,-
(Option) Kampenwand cable car: EUR 21,- / 10,50 (ages 5-15)
All our tours can be customized to suit your needs and interests. Use the button below to get more information.