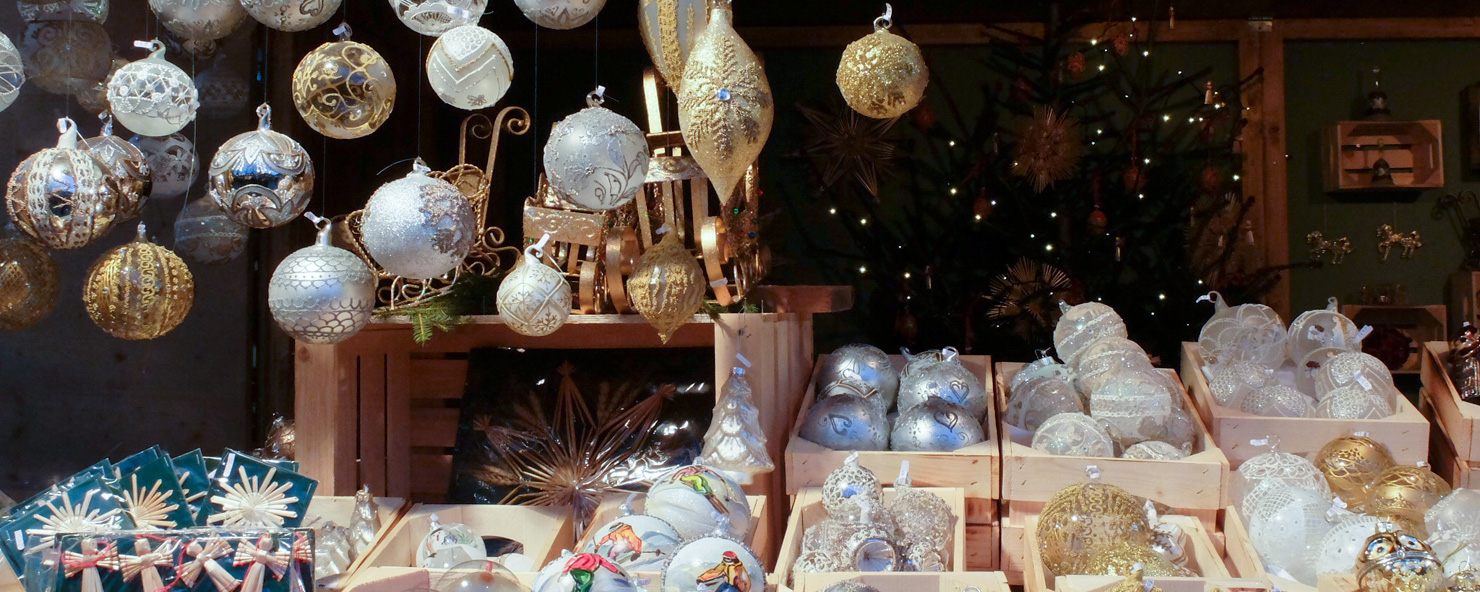 Let Us Take You to the Heartwarming Traditional Weihnachtsmärkte
Christmas is a wonderful and long awaited time here in Bavaria and Austria. In a tradition going back hundreds of years, towns set up a Christmas-themed street market, known as a Christkindlmarkt, or Weinachtsmarkt, during the Advents season. Of course they are world famous these days. We know these markets very well and have created some day tours to bring you to the best ones. We can work a Christmas Market visit into one of our regular day trips. We also offer a two-day Christmas Market Special going to Rothenburg, Nuremberg and Regensburg. Lastly, but of course not least, we offer a variety of Christmas Market tours in Munich (there are over a dozen markets here).
The Christmas Markets certainly bring cheer and light into the gloomy short days of the end of year. They are full of handmade craft items and traditional ornaments. The uplifting mood of the Christmas Market is enhanced by the tasty food and drink options, especially the gingerbreads and the hot spirituous drinks such as hot mulled wine, angel drinks and spiked punches.
Below are our tours with a prime focus on the Christmas Markets:
Nuremberg and Regensburg – we start in Nuremberg at the most famous Weihnachtsmarkt in Germany and end at our personal favorite in Regensburg. We will do a walking tour of the old town in each location.
Salzberg and Berchtesgaden – we start at the cute small market in Berchtesgaden followed by the Magic Advent market at the Hellbrunn Palace, which is just outside of Salzburg. The rest of the day is for Salzburg, including a tour of the old town and of course its wonderful Weihanchtmarkt.
Two-Day Tour to Rothenburg, Nuremberg and Regensburg – the first day is spent in Rothenburg, where we also overnight. Day two for Nuremberg and Regensburg. We will do a walking tour of the old town in all three locations.
Munich Christmas Markets – we can turn any city tour into a Christmas Market tour. Our 3/4/5-hr walking tours basically turn into S-M-L Christmas Market Tours. The medium and large tours have proven to be the most popular. We give you a tour of the old town, of course, and take you to our favorite markets.
 These regular tours have fantastic Christmas Markets:
Rothenburg and the Romantic Road
Salzburg
Nuremberg
Innsbruck (great for kids!)
Regensburg
Herrenchiemsee Palace (very limited but wonderful market on the Fraueninsel)
Tour Highlights
Tours of the old towns in all locations
Cheerfulness and warmth on cold winter days
Lots of great food, such as wonderful baked creations, crepes, warm deserts and of course sausages.
Lots of enticing spirituous hot drinks, like hot mulled wine, punches, and spiced rum tea.
Plenty of free time for exploring the markets at your own pace
Wide variety of markets in Munich
Tour Details
For day trips:
Door-to-door transportation to and from your hotel or designated place
Start time is usually 08:30 or 9:00 and we arrive back in Munich around 6 or 6:30 pm
Experienced, knowledgeable and friendly driver/guide
Simple and transparent pricing with no hidden costs
For the two-day trips please see our multi-day trip page.
For Munich tours please see our Munich Walking tours page.
Tour Options
Any tour can be adapted to your interests or needs
Tour Pricing
For the two-day trips please see our multi-day trip page.
For Munich tours please see our Munich Walking tours page.
Below is for full day tours.
The prices for our private tours are group prices, i.e. one price for the entire group.
Our listed prices are for up to 6 travelers. We are able to accomodate a 7th person for a small extra fee.
Please contact us for a price for 8 or more travelers.
Entrance fees are extra (listed below)
Single traveler discounts available
Tour Price: EUR 890,-

Additional charge for 7th person: EUR 60,-
Entrance fees:

Regensburg palace Christmas Market: EUR 8,50 – 10,50
Hellbrunn Palace Christmas Market: EUR 5,00
All our tours can be customized to suit your needs and interests. Use the button below to get more information.